Water Features were a popular design feature on Greens when they were created in 1998-2000; However, they are among the more difficult to maintain and cause their Trusts a number of problems, leading, in some cases, to their removal.
Ponds & Wetlands
Edit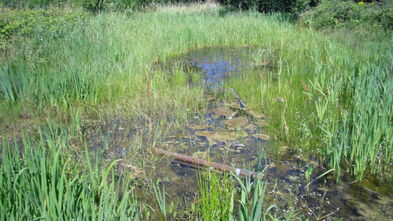 Ponds and wetlands can be a great haven for wildlife and many of them are a significant habitat in an otherwise dry area.

.
They may often have been the first thing that nature lovers wanted to create on their Millennium Greens, but those more interested in the community, children and Health & Safety were and are concerned about the risk of drowning in ponds. A number of Greens, such as New Southgate chose not to create one for this reason. Others, such as Cricklewood, have removed them for safety reasons.
Nevertheless, dozens of Greens do have them, usually in the more rural settings, and often they were already there, which negates the concern of actually creating a hazard.
Some Greens do not have an all-year-round pond, but have an area with significant water for most months of the year, such as Chadwell. How much water will be in a wetland will depend, not only on what time of year, but as with all water features, how dry that year is. Some wetlands will become more like lakes, still with significant water at the height of summer, as Chadwell did in 2012. In other years, even lakes are at risk of dying out. In general, wetlands support amphibians, which do not rely on permenant water, but not fish.
Fountains and pools
Edit
Wells & Boreholes
Edit
Ad blocker interference detected!
Wikia is a free-to-use site that makes money from advertising. We have a modified experience for viewers using ad blockers

Wikia is not accessible if you've made further modifications. Remove the custom ad blocker rule(s) and the page will load as expected.