Robin Hood Millennium Green is in Poplar, London.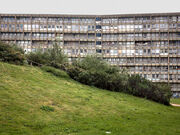 It is a 0.75 ha site in a very urban area, surrounded by housing.
History of the Green
Edit
This Millennium Green has been involved in a lengthy battle with their local council, who wish to build on the Green and as of 2012, are not planning to give the Trust an alternative site.
Millennium Feature
Edit
A sundial mosaic in the shape of a bow and arrow, where the viewer is the gnomon. The mosaic was designed by David Bratby.
Other Features
Edit
Nature & Wildlife
Edit
Although the site is not very 'natural', it does include quite a number of shrubs and trees.
Nearest Millennium Greens
Edit
External Links
Edit
Ad blocker interference detected!
Wikia is a free-to-use site that makes money from advertising. We have a modified experience for viewers using ad blockers

Wikia is not accessible if you've made further modifications. Remove the custom ad blocker rule(s) and the page will load as expected.