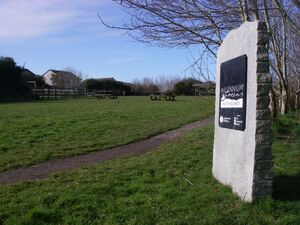 Mount Hawke
Millennium Green is in Cornwall.
Quote from Fields in Trust page:
"Mount Hawke Millennium Green is a two acre site in the centre of Mount Hawke village In St Agnes Parish in Cornwall. It forms the only public access play space in the village and for a 2 mile radius. The Millennium Green contains a mixture of general grassed play area, enclosed playground and wild areas, connected by a network of paths which also form access routes between a number of residential areas and the village shops and school. Because of its central location the Green is continuously well used by all age groups, and also hosts a number of annual village events."
History of the Green
Edit
Millennium Feature
Edit
Other Features
Edit
Labyrinth
Edit
As of 2016, Mount Hawke is making a labyrinth.
Nature & Wildlife
Edit
Fundraising & Sponsorship
Edit
Mount Hawke operate a Give as you Live web page, where internet shoppers can raise funds for the Green as they shop on-line
Nearest Millennium Greens
Edit
External Links
Edit
Ad blocker interference detected!
Wikia is a free-to-use site that makes money from advertising. We have a modified experience for viewers using ad blockers

Wikia is not accessible if you've made further modifications. Remove the custom ad blocker rule(s) and the page will load as expected.