Mosaics were used by many Millennium Greens as their Millennium Feature; they have also been created as seperate features of some Greens, including some made years after the creation of the Green. Generally, they have pictures, symbols and text relating to the individual Green they are on.
Millennium Features
Edit
A number of Millennium Greens chose one form or another of mosaic to be their Millennium Feature. Most chose either the theme of time to connect with the turn of the millennium, such as Robin Hood, or something to do with their local area, such as Chadwell.
Later Additions
Edit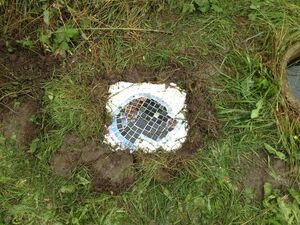 New Southgate created two mosaics in 2012. One features a dog commemorating local writer Jerome K Jerome. The second features a chinese dragon commemorating the anniversary of 2000 Year of the Dragon.
Making Mosaics as a new feature for your Green
Edit
Advice from Andrew Irvine and Harry Blackman of New Southgate. "It requires a lot of time and patience for volunteers with no mosaicing experience to create a satisfactory mosaic. It took far longer than we imagined and we have a love-hate relationship with it. We are proud of what we did, but we look back at hours and hours of time taken to get that far and still, to be frank, not achieving professional quality leaves us somewhat frustrated."
Ad blocker interference detected!
Wikia is a free-to-use site that makes money from advertising. We have a modified experience for viewers using ad blockers

Wikia is not accessible if you've made further modifications. Remove the custom ad blocker rule(s) and the page will load as expected.