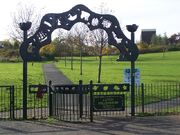 Luton Millennium Green is in Chatham, Kent. The Green is in an area of high-density housing. In such an area, especially without the local volunteer team and support, the Green is suffering a lot from Vandalism.
Disbanded Trust
Edit
Despite the fact that this Green originally had a lot of sponsorship and support- as evidenced by the notice on the picture, the trust was disbanded in 2004 and as of 2012 the future of the site is not resolved.
Millennium Feature
Edit
Other Features
Edit
Fundraising and Sponsorship
Edit
Nearest MM Greens
Edit
External Links
Edit
Ad blocker interference detected!
Wikia is a free-to-use site that makes money from advertising. We have a modified experience for viewers using ad blockers

Wikia is not accessible if you've made further modifications. Remove the custom ad blocker rule(s) and the page will load as expected.