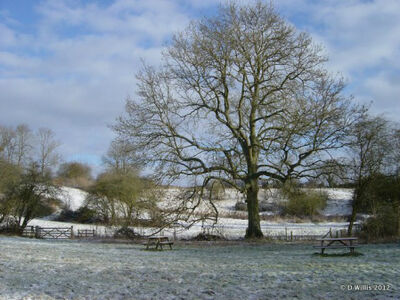 Inkberrow Millennium Green is in Inkberrow, Worcester, Worcestershire. The eight acre site includes a moat and ponds.
History of the Green
Edit
Before the Green
Edit
The early history of the site is lost in the mists of late mediaeval England. Its main feature is a well-preserved moat surrounding an island thought probably to have had a dwelling at one time but now wooded, together with two medieval fishponds. In addition, much of the site features "ridge and furrow", a land pattern common across much of the English Midlands, formed by ox ploughing in the Middle Ages.
The 1840 Tithe Map shows that the first field was then two fields; the part above the moat was described as 'Hill' and the area above and beyond the second pond as 'Brick Kiln Piece' – probably where a temporary kiln was set up to make bricks for local use.
The second field was named 'The Dells' in the Tithe award and later known as 'The Dingles' – both terms meaning deep hollows. On the Inclosure Award of 1817 this field was still part of the Open Field called 'Churchway Field'. The 'Hill' is described as 'the Close including the walk and ponds' in 1817 and seems to have been part of the old vicarage grounds. It is known that during the Second World War, there was a small practice firing range in the second field and even in the 1980's there was a deep slit concrete trench to protect the people operating the targets.
Millennium Feature
Edit
Other Features
Edit
Nature & Wildlife
Edit
Nearest Millennium Greens
Edit
External Links
Edit
Ad blocker interference detected!
Wikia is a free-to-use site that makes money from advertising. We have a modified experience for viewers using ad blockers

Wikia is not accessible if you've made further modifications. Remove the custom ad blocker rule(s) and the page will load as expected.