Henbury Millennium Green is in Henbury Vilage in Cheshire.
History of the Green
Edit
The Parish Council was instrumental around 1998 in setting up the Henbury Millennium Green.
Expansion
Edit
In 2014, Henbury purchased a half-acre of land adjacent to the vicarage from Church authorities.
Millennium Feature
Edit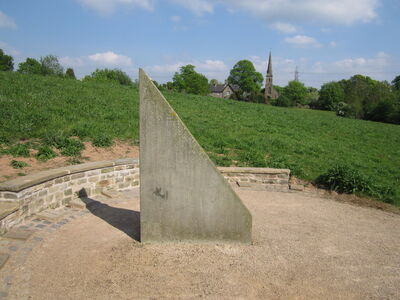 Henbury installed a detailed and accurate sundial.
Other Features
Edit
Children's Play Area
Edit
Henbury installed a new play area in 2014.
Nature & Wildlife
Edit
The Green have been removing sycamore trees in favour of native hawthorn. There is a small pond.
The Council makes donations each year towards the cost of the maintenance of the Green. The Council also works closely each year with the Trustees of the Green in the provision of the Bonfire and Firework Display that takes place in November and provides the insurance cover for this event.
Nearest Millennium Greens
Edit
External Links
Edit
Ad blocker interference detected!
Wikia is a free-to-use site that makes money from advertising. We have a modified experience for viewers using ad blockers

Wikia is not accessible if you've made further modifications. Remove the custom ad blocker rule(s) and the page will load as expected.