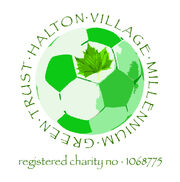 Not to be confused with East Halton Lincolnshire.
Halton Village Millennium Green is in Halton Village, Runcorn, Cheshire. This Green, of around 2 acres in size is well used by the local community, successfully becoming part of the village community. It attracts a lot of visitors and events are held regularly, involving all parts of the community. The small regular volunteer team have made links with many different people to create a thriving Green.
Spark Lane, Halton Village, Runcorn, Cheshire, WA7 2AG.
History of the Green
Edit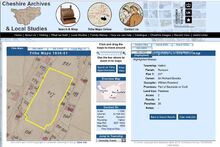 Potato Field
Edit
In 1845, it was a potato field, as shown on these records.
Belonging to the Pub
Edit
At the turn of the Millennium the land belonged to the public house next door and the pub maintains a strong relationship with the Green.
Millennium Feature
Edit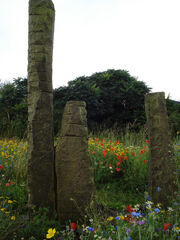 This sculpture was created by local school children working with a community artist. The sandstone towers look like termite mounds and they are meant to represent the community working together. The names of the children are carved into the surface of the stones.
The field is now known by local children as "The Millennium"
Other Features
Edit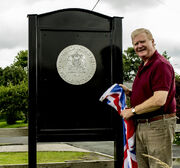 In 2012 we obtained Jubilee Field in Trust status. The plaque was unveiled at our annual Fun Day by our former long standing chairman, John Allen. As part of the Golden Jubilee celebrations, we took part in the The Queen Elizabeth II Fields Challenge, to get 2012 green spaces to become Fields in Trust for posterity.
Here's a link to find out more http://www.qe2fields.com/
A geocache is located on the Green.
We only planted our orchard in 2014, funded by a grant from Biffa. We have a mixed orchard of Pear, Apple, Plum and Quince, 20 trees in total. Ours was planted by experts who told us that we need to keep around 1 metre diameter clear around each tree. We have a Digging Dream Team that try to keep this under control. We had to remove the fruit for first 2 years so our first crop is expected this autumn. We were also instructed about pruning the different trees and have trained volunteers to do this.
We have held an annual Fun Day on Halton Village Millennium Green every year, but this year, 2012, we also took part in the Big Jubilee Lunch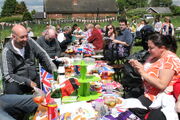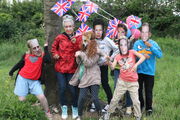 We had a great time with races, a quiz, a community treasure hunt, and just getting lots of people together to share food! It also gave us an opportunity to get some more volunteers on board for the Fun Day.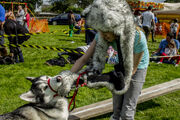 This turned out to be our most successful Fun Day so far, and we received very positive feedback about how well organised it was and how it had some of the most unusual activities ever seen at such an event!
Here's one of the photos of our Dog and Owner Look-alike Winner, Huskie and owner also went on to win Best in Show!
We held our first ever Halloween Event on Wednesday 31st October 2012. Putting up marq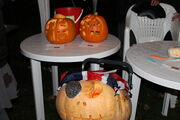 uees at 3.00pm in driving wind and rain we thought "We must be mad, no one will come". To our astonishment, around 200 people turned up to the "Ghostly Green on Halloween" and all had a fantastic time.
We had Bob Apples, a Treasure Hunt, a Ghost Walk to Halton Castle, with thanks to Norton Priory Museum, followed by a Monsters Ball at the Norton Arms pub.
We were really impressed with the standard of entries in the Lantern Competition and Fancy Dress Competition - people had put in so much effort.
Fortunately, our local pub had kindly donated tons of promotional Halloween stuff so were able to give all the children something for taking part.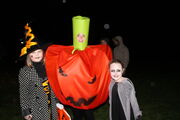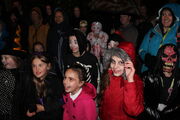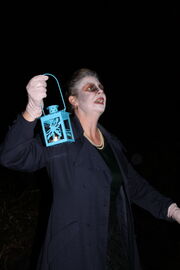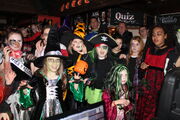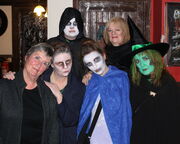 This was our 4th event on the Green in 2012. We have gone from strength to strength with more and more people getting involved and there is so much goodwill towards us in the local community. We started our Facebook page last year and currently have 114 "Likes". The consensus is that social networking is a winner and it has certainly worked for us by attracting so many young people.
Here are a few photos, you can few the rest at
http://www.facebook.com/media/set/?set=a.489103421122869.115787.238818239484723&type=3
or
http://www.flickr.com/groups/haltonvillage_millenniumgreen/
Check out Norton Priory Museum, they also look after Halton Castle
http://nortonpriory.org/menu/halton-castle/
Volunteer Team
Edit
The core volunteer team is, like most Millennium Greens, quite small, but they work with other members of the community to get things done.
The 7.30 Club
Edit
This little group of people visit the Green regularly, walking their dogs etc. at around 7.30 most evenings. As stakeholders on the Green, their ideas and opinions are sought and they assist with many matters and projects. In 2015, a joke that they would like a sauna on the Green became a real creation as the Trust took grant money and put in a shelter where people can meet into place.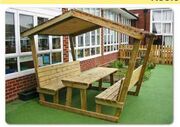 We need our young people to take the Green forward and preserve it for future generations to enjoy and we are really optimistic as we now have several very young volunteers on board.
It's been hard work for a few of us, the driving force consists of around 4 major players but we are getting more and more support and just seeing how much everyone enjoyed themselves and hearing all the positive feedback makes it all worth while.
I hope other Millennium Greens will be inspired by our efforts and we are happy to offer advice on fundraising or publicity.
Fundraising & Sponsorship
Edit
We found that we were having to raise around £2,000 per year to pay for grass cutting. Our Green is in an urban area so the grass needs to be cut to keep the local residents happy. In the present economic climate, we found it increasingly difficult to raise the funds which is why we went for the QE11 Challenge. By becoming a Jubilee Field in Trust, we were able to apply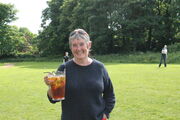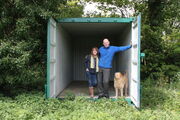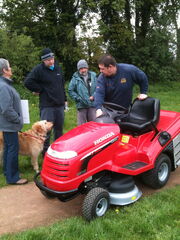 for a grant from the SITA Trust. Thanks to our stalwart fundraiser, Pauline Riley (pictured here with a very well deserved jug of Pimms at the Big Jubilee Lunch), we made a successful bid for a grant of £5,000 to purchase a sit on mower, and a container to house it (as well as our marquees and all the other equipment for the Fun Day, previously stored at various locations throughout the Borough!).
The container was painted green, so you hardly notice it on the Green!
There has been no shortage of volunteers to cut the grass on our shiny new mower! Mostly men??
Nature & Wildlife
Edit
We planted a wildflower meadow in 2008. It looked great the first year but it has been difficult to maintain. This year, we took part in the RHS Wild about Wildflowers event.
Awards and Annual News
Edit
We enter the RHS Britain in Bloom, It's Your Neighbourhood category annually, achieving great results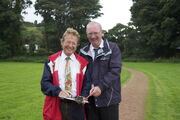 .
Here are our lovely judges!
We achieved "Thriving" in the RHS It's Your Neighbourhood category 2012. We got 83 out of 100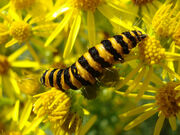 , just 3 points short of "Outstanding"! Thanks again to everyone for supporting us, the Judges were impressed with our efforts to improve and maintain the Green and all the work we have done to involve the local community.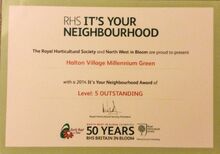 We achieved Outstanding in 2014! We obtained a large grant from Biffa and planted an orchard of Cheshire heritage varieties of apple, pear, plum and quince. We also planted fruit bushes. The orchard is for community foraging. 50 Brownies planted 2000 English Bluebells and Snowdrops. Our Digging Dream Team planted hundreds of Red Campion, Wild Garlic, Wild Strawberries, Wild Basil, Cowslips, Primroses and other native wild flowers.
Here's a link if you want to get your Green involved in RHS Its Your Neighbourhood:
http://www.rhs.org.uk/Gardening/Community-gardening/It-s-Your-Neighbourhood/New-to-its-your-neighbourhood/How-the-campaign-works
Working with other Millennium Greens
Edit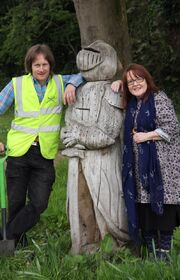 Halton have been active in this for some time, working on the MMG encyclopedia, talking on the MMG Facebook Group and in 2016, hosting a visit from New Southgate Millennium Green in London.
Nearest Millennium Greens
Edit
External Links
Edit
Follow us on Twitter @HaltonGreen

Charity Registration no.1068775