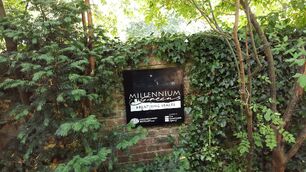 Fences, Hedges and Walls
are obvious features on almost every Millennium Green- most of them have one all round the edge. However the name "Green", rather than "Park" implies open green land, so it is not surprising that at least a few of us have no boundary barriers- no fence, hedge or wall, nor necessarily any on site at all.
Boundary Barriers
Edit
Along with gates, these mark the boundaries and control entry to both people and other animals. It may be very good to be able to close off the Green, but it may work against us. Cricklewood have found that the locked gate only keeps ordinary folk out, but meant that criminals vandalising etc. were less likely to be seen. New Southgate, by contrast, have people walking through at all hours to and from the bus, with no gates at all; this means that they have to be prepared to deal with problems immediately, since they cannot close off the Green.
As Ornamental and Growing Features
Edit
These barriers can add shelter, such as blocking off the north wind, to create south-facing sheltered areas. They can also create something for plants to climb up and walls can be used for murals or graffiti art.
Ad blocker interference detected!
Wikia is a free-to-use site that makes money from advertising. We have a modified experience for viewers using ad blockers

Wikia is not accessible if you've made further modifications. Remove the custom ad blocker rule(s) and the page will load as expected.