Entrances and Gates form an important part of the design of Millennium Greens. They are a key part of the first impression that all visitors have of the Green; They strongly influance the visibility of the Green and may be part of the Green's security.
The Countryside Commission recommended that all Greens should have some kind of significant entrance and as they approached local groups they had pictures of such things as wooden arches over entrances. However they did not make this a requirement of the grant.
Temporary Signage
Edit
They provided what they called "temporary" signage", with the Green's official name on it and various key sponsors; however, as of 2013 many Greens still have only these signs, next to plain gates or open entrances.
Millennium Features
Edit
As part of the Grant requirements, the Commission specified that all Greens should have a Feature created to present to the public at the official opening in 2000. A number of Greens chose to make fancy gates as their Feature.
Theft of Gates
Edit
Some Greens have had metal gates stolen and all Greens are advised to ensure that their gates are secured so they cannot be easily lifted out and taken.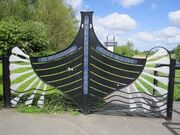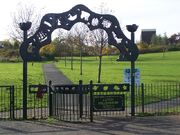 Ad blocker interference detected!
Wikia is a free-to-use site that makes money from advertising. We have a modified experience for viewers using ad blockers

Wikia is not accessible if you've made further modifications. Remove the custom ad blocker rule(s) and the page will load as expected.