Congresbury Millennium Green is in North Somerset.
History of the Green
Edit
When the Green first started it had 11 trustees. by 2011 the numbers had dwindled and in 2011 the village voted for the local council to be the sole trustee of the Green.
Millennium Feature
Edit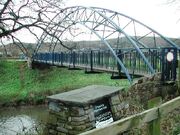 The Trust had a 30 Metre bridge built in 2000 to cross the River Yeo., which featured in the issue 8 of the Millennium Green Newsletter.
Other Features
Edit
In 2009 a set of children's play equipment was added to the Green.
Nature & Wildlife
Edit
Fundraising & Sponsorship
Edit
Nearest Millennium Greens
Edit
External Links
Edit
Ad blocker interference detected!
Wikia is a free-to-use site that makes money from advertising. We have a modified experience for viewers using ad blockers

Wikia is not accessible if you've made further modifications. Remove the custom ad blocker rule(s) and the page will load as expected.