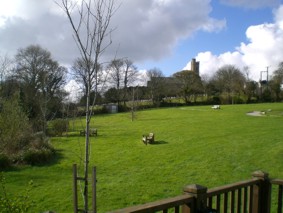 Chacewater
Millennium Green is in the village of Chacewater outside Truro, Cornwall. The Green is
quite small, around an acre
, within the village and rather tucked out of sight behind the community centre. Most of the land is on a continuous slope upwards behind the centre, with a small levelled-out area near the top of the land. A path winds in from the entrance at the bottom, round the site and out at another entrance at the top.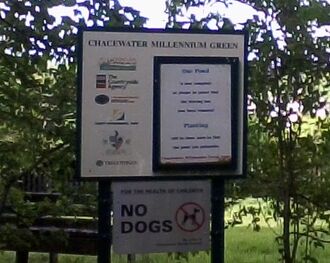 Surprisingly, the Green has a NO DOGS policy, possibly the only Millennium Green to do so. The main area of the site is mown grassland, with trees planted around the edges and a pond in the corner. In 2013 it was decided to put in a small monument to commemorate a local Victoria Cross recipient.
History of the Green
Edit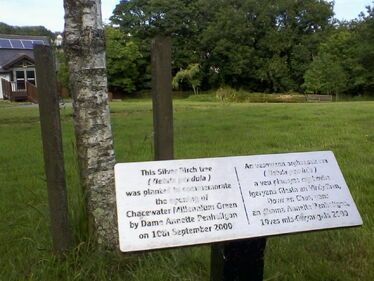 Millennium Feature
Edit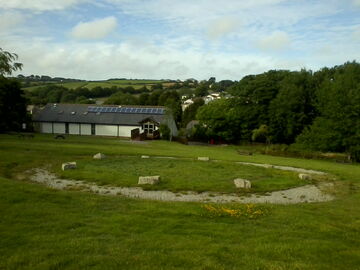 A circle of low stones is placed in the middle of the Green, with a path all round and an empty central area.
Other Features
Edit
Nature & Wildlife
Edit
The grassland has the usual small wildflowers in it- bugle, buttercups etc. The pond is a reasonable size and the trees add habitats.
Facilities
Edit
The Green is right next to a community centre, so there is access to shelter etc. when the centre is open. On the opposite side of the road is a free (donation) car park and a public toilet with good opening hours. The main road leads into the village after a short walk, where there are shops. There are a number of seats including both sun and shade.
Fundraising & Sponsorship
Edit
Nearest Millennium Greens
Edit
External Links
Edit
Ad blocker interference detected!
Wikia is a free-to-use site that makes money from advertising. We have a modified experience for viewers using ad blockers

Wikia is not accessible if you've made further modifications. Remove the custom ad blocker rule(s) and the page will load as expected.