Burneside is in Burneside, Kendal, Cumbria. The Green comprises a narrow strip of wooded land between a housing estate and a small river, which has otters. The Trust are leaseholders of the land, unusually, the landowner is not the local authority, but a housing association.
BURNESIDE, KENDAL, LA9 6QF
History of the Green
Edit
The name Burneside comes from the de Burneshead family that occupied the Hall now known as Burneside Hall and has been occupied since the 1200's.
Millennium Feature
Edit
Other Features
Edit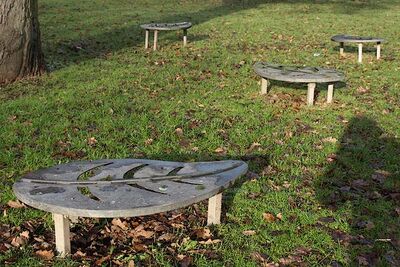 A set of leaf-shaped metal seats are set in the grass.
Nature & Wildlife
Edit
The Green has otters and the native white clawed crayfish.
Fundraising and Finance
Edit
The main funds to operate the Green are supplied by the Parish Council, who replaced a grant for grasscutting with the service of grasscutting to save the VAT and a local charity, The Anglers Inn Trust, whose contribution  pays for the Insurance and other ongoing expenses.  The general maintenance of the Green is done by volunteers. Therefore, Burneside does not usually do any fundraising.
Nearest Millennium Greens
Edit
External Links
Edit
Ad blocker interference detected!
Wikia is a free-to-use site that makes money from advertising. We have a modified experience for viewers using ad blockers

Wikia is not accessible if you've made further modifications. Remove the custom ad blocker rule(s) and the page will load as expected.