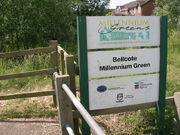 Bellcote
Millennium Green is in Shefford, Bedfordshire. It has a strong connection with the nearby Bellcote Meadow, forming a double community greenspace.
The green leads down to the floodplain of the River Ivel. It is heavily used by residents who value its easy accessibility and links to the local footpath network.
Purcell Way, Shefford SG17 5RY. Within easy reach of the carpark; at the end of Bury Road and Purcell Way.
History of the Green
Edit
When a substantial housing development was completed, the town council vowed to dedicate the adjacent water meadow - one of its few green spaces left - to nature and recreational use.
Millennium Feature
Edit
Other Features
Edit
Nature & Wildlife
Edit
The area contains three distinct habitats - water meadow, boggy ground and native woodland
Awards and Recognition
Edit
CPRE Silver award
Nearest Millennium Greens
Edit
External Links
Edit
Ad blocker interference detected!
Wikia is a free-to-use site that makes money from advertising. We have a modified experience for viewers using ad blockers

Wikia is not accessible if you've made further modifications. Remove the custom ad blocker rule(s) and the page will load as expected.