Ashton Keynes Millennium Green is in Wiltshire.
Nest to the Bradstone Sports Field in the Village of Ashton Keynes, Wiltshire.
History of the Green
Edit
The village of Ashton Keynes is fortunate to have 3 hectares of land, situated along two sides of the Bradstone Sports field, as a community breathing space.  It was purchased with the help of the then Countryside Agency in 1999.
Millennium Green Feature
Edit
Other Features
Edit
Nature & Wildlife
Edit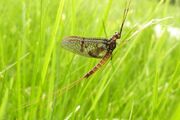 Since the establishment of the Millennium Green, an extensive programme of hedge and tree planting has been undertaken.  The meadows have been planted with a number of specimen trees.
A small pond has been created to encourage bio-diversity and further enhance the area.
Cuckoo Pen Wildflower Meadow
Edit
The so-called 'Cuckoo Pen' used to be used by farmers to collect and pen their stock is now sown with a wildflower mix containing over 22 species to encourage insect life.
Animal Species
Edit
Over 30 different species each of birds, butterflies and moths have been sighted in the Green.   Most recently, the rare Barberry Carpet moth has been introduced on specially planted habitat trees. Bird sightings include the Hoopoe seen in 2014.
Information boards are situated at the entrances.
Nearest Millennium Greens
Edit
External Links
Edit
Ad blocker interference detected!
Wikia is a free-to-use site that makes money from advertising. We have a modified experience for viewers using ad blockers

Wikia is not accessible if you've made further modifications. Remove the custom ad blocker rule(s) and the page will load as expected.