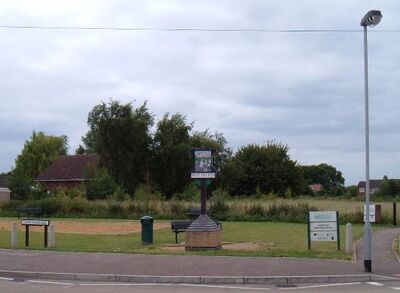 Angel Field
Millennium Green is in Watlington, near King's Lynn, Norfolk. The Green was created on a field opposite the Angel public House and contains a great list of the classic Millennium Green Features- sundial, amphitheatre pond etc.
History of the Green
Edit
The Angel Field belonged to the public house opposite of that name and was purchased with the initial grant.
Millennium Feature
Edit
Other Features
Edit
Paths, trees and hedges, fences, Wildflower Meadow. pond, amphitheatre, maze and sun dial, petanque pitch, and seats.
Facilities
Edit
The Green has various seats. Food, drink and toilets are all available at the Angel pub just opposite.
Nature & Wildlife
Edit
The Green has a wide range of habitats, including wildflower meadows, trees and a pond.
Fundraising & Sponsorship
Edit
The Parish Council pays for the basic mowing and insurance annually. Hay is grown organically on the Green and sold.
Nearest Millennium Greens
Edit
External Links
Edit
Ad blocker interference detected!
Wikia is a free-to-use site that makes money from advertising. We have a modified experience for viewers using ad blockers

Wikia is not accessible if you've made further modifications. Remove the custom ad blocker rule(s) and the page will load as expected.